Introduction
There are several treatment options for pain in osteoarthritis (OA) aiming to reduce or help patients manage their pain efficiently. Non-pharmacological therapies are the first treatment option for patients dealing with none to mild pain and low functional difficulties. Pharmacological therapies are considered to be the second line therapies.
Objectives
Objective of this gap analysis was to determine how healthcare professionals (HCPs) and patients manage chronic pain in OA and to present both perspectives on chronic pain management.
Method
Online surveys:
113 participants, HCPs and patients (Greece and Malta)
13 interviews with HCPs and patients (Greece, Malta and Cyprus) (via Skype or Viber)
Results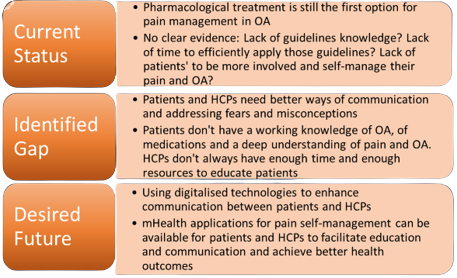 Conclusions
There is a need for better and easier communication between patients and HCPs.
Patients need better self-management skills, and they can be trained with the use of mHealth applications that are available to everyone.
HCPs can also use mHealth applications to improve patient communication.
For the detailed gap analysis please contact us at info@arthritis.org.gr attn: Mrs Nadia Malliou